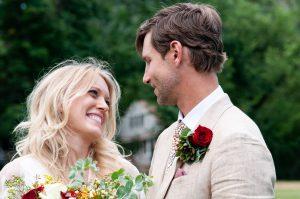 With COVID-19 came postponed weddings and teary brides wondering what to do next.  The reality is that you can't CANCEL LOVE.  Many brides decided to go on with the ceremony, but save the party for later.
It could be a backyard affair with a few family members.  Some couples went back to where they met or where the proposal took place.  Where ever the event took place – it needed to have a memorable element.  That's where we come in.
Our job is to make sure every event is special and reflects the personality of the couple – no matter what the size.   Maybe it's a small elegant dinner, a camping trip with a ceremony under the stars, or a courthouse drop-by.  Jordan and Jessica, our wedding team have developed a selection of Elopement bouquets with matching boutonnieres. This small element makes sure that your ceremony is memorable.
Check out our Elopement Packages and our Micro Wedding Ideas.  Then give us a call at (303) 665-5552, email Jordan and jordan@lafayetteflorist.com, or stop by.  We would love to brainstorm with you.  Follow us on Facebook, Instagram and Pinterest.