Lafayette Florist was started in 1949.  There have been a long line of women in the history of our business, supported by our husbands, brothers and sons.
Kate, founder:
We'll start at the beginning with Kumiko "Kate" Yoshihara, our grandmother.  She was born in California, a first generation American along with 4 brothers.  Her twin brother passed away in childhood, and Kumiko was sent back to Japan to live with her grandparents.  Her brothers stayed in America.
I wondered why my grandmother was sent back to Japan, while her brothers received their education in the US.  As a teenager, the grandparents sent Kumiko back to the US. She was unlike her brothers.  Her broken English made her an outsider.  Did that make her stronger?
Kumiko became "Kate" and married Yasutaro Yoshihara in California and they were raising their young family while farming.  In 1941, Japan bombed Pearl Harbor and life changed drastically.  Over 110,000 Japanese American were removed from the West Coast and placed in relocation camps across the country.  My grandparents were forced to pack up their family and board a train to Colorado.  They could only carry one bag per person.  While my grandfather carried two bags, my grandmother brought 3 young children.
In late June of 1942, Amache Camp in Granada, Colorado was open to receive Japanese Americans.  When Amache was finally complete, it housed 7,700 residents – making it the tenth largest city in Colorado.  This make-shift city was surrounded by a barbed wire fence and residents were guarded twenty-four hours a day by armed sentry.  My Dad told us, the guards said it was for their protection, but the guns faced into the camp.
Kate raised three children, Gene, Joyce and Jim in a one-room barracks in the most remote part of Colorado.  The winters were cold and windy, while the summers were hot and dusty. Kate's husband was one of the cooks for the camp, so their family had plenty of food and bonus – Yasutaro was paid for these duties.
My grandparents did not talk much about life in the camp.  They lived there for two and a half years.  It was something they didn't want to think about.
In 1944, the war was ending and America was winning – so the internees were told they could go back to California.  My grandparents had saved their money and decided it would be more beneficial to stay in Colorado rather than go back to potentially a home that was not there anymore.
Kate and her husband found a 2.5 acre piece of property in Lafayette, Colorado.  It was on Highway 287, which was the main route from Denver to Wyoming.  There was a greenhouse, farm and a building on the land.
Kate negotiated to purchase the property.  She was an American citizen, whereas her husband was born in Japan.  The time was not the best for a woman of Japanese descent.  There were still prejudices, but they endured.
Kate was given a series of promissory notes.  All short term with a high interest rate of 8% versus the 4.5% going rate.  The first note was for 1 year.  I don't think the bankers thought she would make it.
The history of this property was unstable.  In the 50 years before Kate wanted the property, there had been 13 owners.  Mary Miller, founder of Lafayette, Colorado was one of the initial owners and she took it back a few times because of foreclosures.
Kate and her husband grew celery on the farm and had 2 more children.  They took the celery down to Denargo market in Denver to sell and purchased other fruits and vegetable to market at their roadside fruit stand in Lafayette.
Kate's legacy is the property.  The word "Bravery" best describes this woman.  She was feisty and strong.  She wouldn't let the obstacles she faced deter her.  Kate negotiated the purchase with her broken English.  She paid for the property in 11 years, and it continues to be in business since 1949.  The Yoshihara's built their business in Lafayette, made their home here and raised their children here.  It's now four generations strong and still growing…
Evelyn, daughter-in-law / businesswoman:
Meanwhile, our mother Evelyn Kodama grew up in Hawaii.  Born and raised in Puhi, Kauai and living a wonderful childhood filled with beaches, fresh fruit and surrounded by family.
In 1941, Japan bombed Pearl Harbor.  Evelyn was four years old and going to kindergarten.  She told stories of walking to school with a heavy gas mask on her back and daily drills at school putting on the mask and taking cover.  She talked about her father and uncles and how furious they were with their Japan heritage bombing their homes.  Japanese American distanced themselves from their culture.  They did not speak the language.  They disposed of any signs of their ancestry.
Evelyn came to Colorado in 1955 to attend Colorado State College (now the University of Northern Colorado).  She received her teaching degree and taught 3rd grade for one year in Broomfield.  Then, she married Kate's oldest son, Gene and had to help in the family business.  The newlyweds converted the farm into a flower shop and greenhouse, keeping the fruit / vegetable stand.  Building a family business took commitment and Evelyn was not able to visit her family in Hawaii for over 7 years.
The flower shop was built in the 1960's.  Our dad, Gene built the greenhouses in the 1970's.  He grew cut flower carnations and shipped them across the country through Denver Wholesale Florists (DWF).  Gene became a board member of DWF, was a Lafayette City Council member and Lions Club member.  Evelyn was working hard to build a business.  She took business law and financial classes in the evenings while raising her 3 children and building Lafayette Florist.
Evelyn was a true businesswoman.  She was smart, kind and was always teaching her craft of floristry.  She dressed impeccably and her financial mind helped build Lafayette Florist and give it a solid foundation for future growth.  Evelyn served on the board of directors for Boulder Community Hospital.
Evelyn's legacy is teaching.  She taught her daughter Sandi how to be a world class designer and nurtured her daughter Lori to be a businessperson.  Her son Colin went on to be a successful mechanical engineer and is raising a family in Denver.  All three children graduated from Colorado State University.
Lori and Sandi, Kate's granddaughters, Evelyn' daughters:
 I am Lori, a 3rd generation family business owner, but I never wanted to be a florist.  My family worked too hard and I thought the scale was too small.  My mother didn't want me to be a florist either.  She helped guide me through my college career, choosing what would best suit me.
After graduating with CSU with a BS in Textiles and Clothing, with a concentration in Fashion Merchandising, I took an internship at May D&F Department stores in downtown Denver.  I took a permanent job with May Company as a department manager of Better Sportswear at Southglenn Mall, then moved up to assistant buyer in Women's sportswear.  I was promoted to Buyer for Better Dresses and Suits for the 13 stores in Colorado and traveled to New York City every 3 weeks.  It was an exciting job, good pay and benefits – the perfect job for a young person.  I worked for May Company for eight years.
Before I took the job at May Company, I married Brian Wheat.  He came into our family business in the 1980's and moved his way up to Chief Executive Officer.  We have a son, Tanner (born in 1988)– our 4th generation.
I came back to Lafayette Florist when our son was 3.  It was difficult traveling while leaving a toddler to Dad and grandparents, so it was time to make a change.  It was the perfect timing as computers were becoming very mainstream and we needed to convert first generation computers to newer technology.
My sister Sandi is a real talent.  Mom taught her how to do floral design and Sandi has an eye for it.  With a degree in Interior Design, her color and balance sense it superior.  She also has good common sense and is a friend to many.  A perfect balance to successfully run a florist and work with people.   She has my mother's Hawaiian welcoming spirit.
Sandi in certified by the  American Institute of Floral Designers (AIFD).  This highly coveted designation has a rigorous application process along with annual renewals.  Few florists in the world have an AIFD designer on-staff.  Along with this accreditation, Sandi is involved with educating other designers, including our own staff at Lafayette Florist.  Sandi was part of a team of designers selected to work on President George W. Bush's inauguration.
Sandi's son Jackson is part of our 4th generation Lafayette Florist team.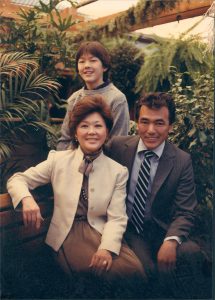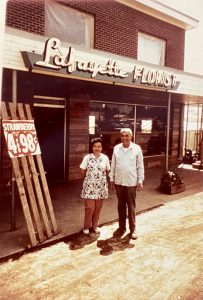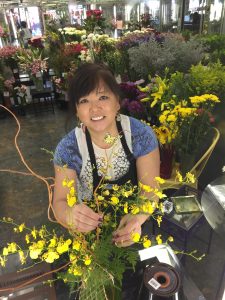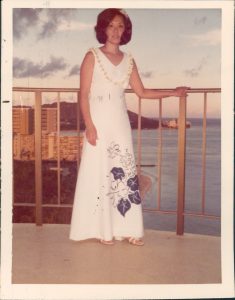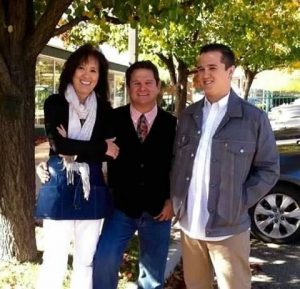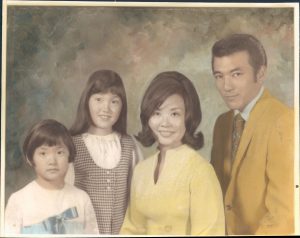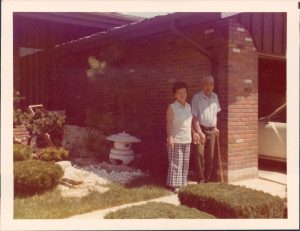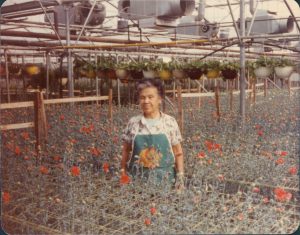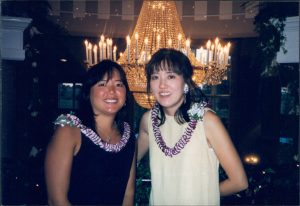 These are the women of Lafayette Florist.